Celtic Jewelry Blog
| | | |
| --- | --- | --- |
| New Celtic Design for Irish Festival | | |
Just in time for the Rochester Irish Festival. Steve made this 1.84 carat tsavorite garnet and diamond Celtic beauty set in 18K yellow gold with 14K white and rose gold details. This ring is AVAILABLE, priced at $4,200. Come see it at the Irish Festival at Camp Eastman starting Friday afternoon at 3 PM. http://www.facebook.com/pages/Rochester-Irish-Festival/133823879983070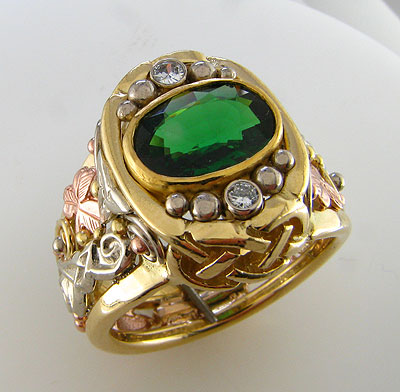 | | | |
| --- | --- | --- |
| New Apprentice for Fairport | | |
| | |
| --- | --- |
| Introducing our new apprentice Susanna. She will be running the Fairport store Wednesday through Saturday and then working with Steve, Jennifer and Lyndsay at the studio in Andover on Mondays and Tuesdays. Fall hours begin in Fairport, open Wednesday - Saturday, closed Sunday, Monday and Tuesday. My daughter Jeanne, who has run the Fairport store since we relocated from Park Ave 3 years ago, has moved to California with her husband, where he will be teaching at the University of California at Riverside. Jeanne recruited Susanna this Summer and trained her before she left. Thanks Jeannie. You found us a good one. | |
| | | |
| --- | --- | --- |
| Apprentice Art Show | | |
Walker Metalsmiths in Fairport is hosting an Apprentice art show. Come join us in celebrating the accomplishments of our apprentices, past and present, Danielle Mora, Jenn Acomb, Lyndsay Himes Burr, and Christalyn Snyder. Stephen Walker will also be present. So if you have any questions for our artists please come in Thursday November 11th from 5pm-7pm for a wine and cheese reception.
Here is a link to our facebook event for more info: http://www.facebook.com/event.php?eid=102185353183254
| | | |
| --- | --- | --- |
| Lost Wax Celtic Jewelry Casting | | |
Please check out our lost wax casting process on youtube
| | | |
| --- | --- | --- |
| Celebrating 25 Years as a Full Time Artist Craftsman | | |
A quarter century ago Stephen Walker left his job to try his hand at self employment as a craftsman jewelry designer and metalsmith. It was over the Christmas and New Year Holidays in 1983 that the transition of working as an hourly employee for Markusen Metal Studios in Kendall, NY to sole proprietor and aspiring artistic entrepreneur took place. At the time his dream of living the life as a silversmith or handmade jewelry craftsman seemed like the stuff of hippie fantasy.
Walker began working in precious metals more than a decade before, gradually beginning his career in art class at Andover Central School in the early 1970s making celtic jewelry and pipe band accesories. After a year tramping around Europe he enrolled in art school at Alfred University. He then transferred to Syracuse University where he earned his BFA degree in Silversmithing and Jewelry design in 1980. At Syracuse he met his wife Susan, who was a marketing and public relations major. After Syracuse the Walkers married and Stephen earned his MFA degree in Metals Arts at Southern Illinois University at Carbondale in 1982. For the next year and a half Stephen worked for wages while he developed his own line of designs and a business plan.
Read the full article on 25 years of Craftsmanship